We use the best new technologies in telephony, database collection and audio recording in our services. We can collect your data,
all permission based
.
Our emphasis is membership or sales lead generation in easily compiled and assembled databases. That's why we built the technologies for you to "
Join
This
Club
" to build your permission based consumer and business prospect databases.
By
amortizing the cost
of the collection tools, methods and equipment over numerous organizations, clients and campaigns, we do not need to re-invent the wheel each time a new organization requires their membership assembled in a database. This is why in some cases we can offer our basic services to a limited number of
not-for-profit organizations without charge
.
We have built very cost effective means of assembling consumer databases either by secure
data entry
by the individual consumers into a centralized cloud based database
web form entry
or by merely
telephoning into our call center
numbers and opting in to join your club, group, offer or membership organization.
Our background in tourism
radio broadcasting
has demonstrated to us that in telephony and call centers good quality and professional
voice overs
for promotional announcements and voice talent is hard to find. The average call center employee, customer service representatives do not have the tone and audio quality of a sales
convincing radio announcer
to motivate a "call to action" from the consumer. That is why we also provide professional voice recording services and
FM radio transmitters
installation and turn-key solutions for your community's own FM radio station.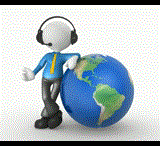 Our telephone database service can handle
voting by telephone, for polls and surveys
, and we can roll up the results to validate one household telephone number-one vote fairness. An audio recording of the voter to verify his or her identity can also be part of our service offerings. In addition our telephone virtual call center can handle
unlimited simultaneously inbound callers
so your customers will never get a busy signal and your marketing announcement will be heard by all of those who call your dedicated telephone number on our system.